Are you thinking of a career in genealogy?
An excellent starting place for information is Paul Gorry's book, Credentials for Genealogists: Proof of the Professional (first published Ireland, 2018; second edition, 2021).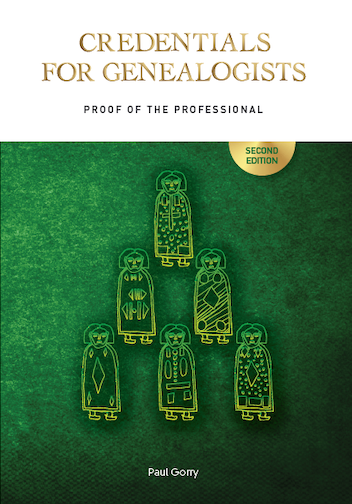 AAGRA President, Dr Dianne Snowden AM, (pictured with Paul Gorry in Baltinglass, Wicklow, Ireland in 2019) suggests that general readers and those considering a career in genealogy will find the following sections of the book particularly useful: Sections 2 'Genealogy, Academia and Education' and Section 3 'Developing a Career in Genealogical Research'.
Paul Gorry has worked in genealogy professionally since 1979 and is a credentialled Member of Accredited Genealogists Ireland (MAGI).
For more information, read the following review of Paul's book:
Paul Gorry, Credentials for Genealogists: Proof of the Professional (1st published Ireland, 2018;
In the second edition of his book, first published in 2018, Paul Gorry identifies the five hallmarks of a true professional genealogist as Ethics; Knowledge; Skill; Experience; and Professional Credentials. Gorry unapologetically advocates for credentials for professional genealogists. The book highlights the work of the various accrediting bodies worldwide, which have long provided such credentials. Today the majority of practitioners do not have accreditation and appear not to think it necessary to their careers. Gorry acknowledges that relevant credentials are not open to every genealogist, largely due to linguistic or geographical restrictions. He also acknowledges that there are many expert practitioners who have never felt it necessary to seek confirmation of their skills. However, he believes that credentials are essential for the sake of genealogy as a profession, for the integrity of the conscientious practitioner and for safeguarding clients' interests. Given that genealogy is unusual as a profession, with most practitioners starting out as hobbyists, in the past many in the field recognised that it lacked respect from academia. Much energy has been put into attempts to gain such respect. In some cases, this has led to moves to exclude from the profession those whose training is not through academic courses. Gorry argues against such limitations. Credentials attest to a practitioner's skills and experience, regardless of the career path that has been taken. The book provides background on the various accrediting bodies, as well as guidance on developing a career in genealogy, on training courses and on organisations that provide support for professional genealogists. Paul Gorry has worked in genealogy professionally since 1979. The credential he holds is from AGI, i.e., he is a Member of Accredited Genealogists Ireland. Apart from AGI, the other bodies offering credentials throughout the world are the Association of Genealogists and Researchers in Archives (AGRA), the Association of Scottish Genealogists and Researchers in Archives (ASGRA), the Australasian Association of Genealogists and Record Agents (AAGRA), the Board for Certification of Genealogists (BCG), the Bureau quebecois d'attestation de competence en genealogie (BQACG), the Genealogical Institute of the Maritimes (GIM) and the International Commission for the Accreditation of Professional Genealogists (ICAPGen). Additionally, Genealogistes de France is a licensing organisation. These bodies provide credentials, or accreditation, for truly professional genealogists, regardless of the career path taken to acquire the necessary knowledge, skill and experience.my 2nd Edition on the website. [Source: https://books.google.com.au/books/about/Credentials_for_Genealogists.html?id=CmFZzgEACAAJ&source=kp_book_description&redir_esc=y]